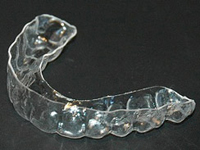 Retainers are a great way to help teeth stay in the same position over time. As we age, our teeth want to constantly shift and move causing tilting, rotating and repositioning of teeth. Whether you have had orthodontic treatment and you do not want you teeth to shift or your happy with the way you teeth look and you are starting to notice a slight change, retainers are a great way to hold your teeth in the same position. Our retainers are very thin and cover the entire arch for maximum fit and retention.
Reasons for wearing an Essix Retainer
Contact us today at 480-443-339, or fill out the short form to the right and we will get back with you.