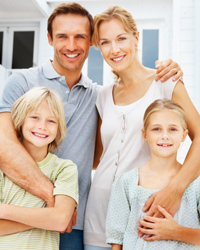 At the Scottsdale, AZ general dentistry practice of Dr. Steve P. Purtell and Dr. Christopher G. Vitagliano, you'll find a dental team with years of experience and training willing to help build the healthy smile you desire. Whether you need night guards, bleaching trays, or just regular dental cleanings and exams, we've got your needs in mind at our office. We provide quality comprehensive general dental care for children and adults using the newest techniques and materials. Cosmetic Dentistry has made major advances in recent years allowing our patients to benefit and obtain the smile they desire.
With so many products available it is difficult to know what and how to use them. Dr. Steve P. Purtell and Dr. Christopher G. Vitagliano provide general dentistry services for children and adults, providing guidance on the right dental products to use and proper brushing methods to achieve optimum oral hygeine. Flouridated products are important to keep your teeth healthy and strong. Especially in patients with dry mouth or taking medications causing dry mouth symptoms, fluoride helps protect the teeth from acid and bacteria. General dentistry allows us to give you the kind of smile and oral health that you deserve for many years to come. And we do everything we can to make sure you have a comfortable and anxiety-free dental visit.
Unfortunately, many patients wait until a problem occurs or something hurts before they come and see us. This often necessitates more extensive restorative or even emergency dental care. Regular checkups are important to help diagnose potential problems early allowing for regular general dentistry care to inhibit their occurance.  We use our recall visits to check the teeth for cavities and fractures as well as examine the gums for any kind of infection. Oral cancer screenings are also part of every checkup where any abnormalities are noted and followed on subsequent visits to check for changes. The mouth is the opening to the rest of the body and often problems occuring within can show up in the soft tissues of the mouth making it important to have regular checkups.
Services we offer are:
Oral Surgery
Occlusal Hard Guards
Essix Retainers
Schedule a FREE consultation, call today 480-443-3339, or fill out the short form to the right.