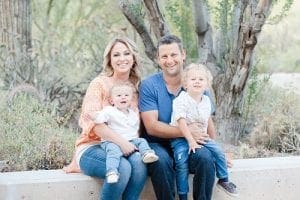 Dr. Christopher G. Vitagliano is an Arizona native and graduated from Horizon High School. He left Arizona for California when he was awarded an athletic scholarship for soccer at the University of California, Irvine. After receiving his bachelors degree in Biological Sciences from UCI as a scholar athlete, Dr. Vitagliano went on to Dental School at Temple University in Philadelphia where he graduated Summa Cum Laude and was inducted into Omicron Kappa Upsilon ( National Honor Society of Dentistry). Through Temple, Dr. Vitagliano was extremely active in community outreach programs focusing on aiding the underserved population of all ages in the surrounding areas. After dental school, he furthered his education and training by completing a hospital based General Practice Residency at the Queen's Medical Center in Honolulu, Hawaii which was heavy in General Dentistry, Cosmetic Dentistry and Oral Surgery.
Voted Phoenix Magazine Top Dentist, Dr. Vitagliano provides state-of-the-art Cosmetic and Digital Dentistry. With a constant passion to provide quality and minimally invasive dentistry, Dr. Vitagliano dedicates countless hours to continuing education and dental seminars.
Dr. Vitagliano returned to Arizona to practice around family and friends. In his spare time, Dr. Vitagliano spends time outdoors with his wife Holly and sons Sawyer and August. He still enjoys playing and coaching soccer as well as golf.
Member of the Following Professional Organizations
American Dental Association (ADA)
Arizona Dental Association (AZDA)
Central Arizona Dental Society (CADS)
Omicron Kappa Upsilon Kappa Kappa Chapter (OKU)
To schedule a consultation with Dr. Vitagliano call today 480.443.3339,
or fill out the short form to the right.