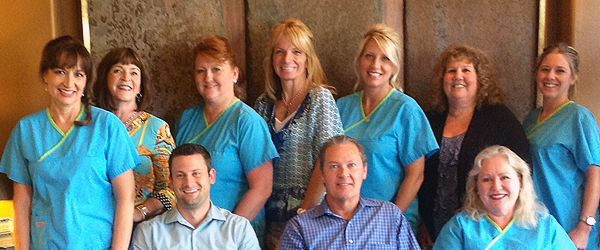 About Our Scottsdale Dentist Office
Our general and cosmetic practice has been providing comprehensive dentistry in the Scottsdale, AZ and North Phoenix area for over 20 years! Our goal has always been to provide the highest quality dentistry in a personal, caring manner to all members of your family. Whether a child or an adult, we give each patient the individual attention required to treat their specific needs. We believe that the appropriate treatment plan cannot be achieved without listening to your questions, concerns, desires, and goals. This belief is shared by our entire team of talented and caring professionals.
We believe that the strong relationships our team has with one another, and with our patient's is the key to our consistent success. Our office prides itself on long lasting relationships based upon trust and mutual respect. This is no more evident than our hygienist and front office staff who have been together for an average of 15 years. We want patients to feel as though they are coming into an extension of their own home and family when they visit us. Many of our patients have been seeing us for over 20 years, resulting in valued friendships and multiple generations of patients. We understand that everyone does not find a trip to the dentist as the most enjoyable activity to do with their time, but our dentists and dental team are compassionate people who will work with you to help alleviate any fears you have. We can provide nitrous oxide to our most anxious patients to help make the visit as pleasant as possible.
Finally, we understand that dental costs are always a concern, and we work with our patients to make sure that we can provide the best possible dental care without the financial burden. Refraining from selling treatment, our office only suggests the necessary and appropriate treatment. This enables our patients to make the best decision when it comes to their dental needs and overall well being.
We all look forward to meeting you, and joining our patient family!
Schedule an appointment today, call (480) 443-3339 Today!